ACASIS 40Gbps M.2 NVMe SSD Enclosure Compatible with Thunderbolt 3/4, USB 4.0/3.2/3.1/3.0/2.0, TBU405
*Save $10 On TBU405/TBU405PROM1 【Using Discount Code: AD10 】
Grab The Deal!
US customers order in the next
[totalHours] hours %M minutes
to get it between and
UK / FR / HK: 3-5 Business days
JPY / KR: 4-7 Business days
SG/ DE: 5-8 Business days
NL / PL / SW : 6-8 Business days
AU / SWE / RON: 6-10 Business days
CA/NO: 8-10 Business days
15-Day Returns • 1 Year Warranty • Free Shipping Over $79
PAY WITH EASE
Overview
TBU405 upgrade version: TBU405PROM1, tool-free installation, built-in cooling fan, making it more convenient for you to continuously transfer data!
The ACASIS M.2 NVMe Aluminum Enclosure transfers data at up to 40Gbps, making it perfect for professionals who need to transfer large files or data sets quickly and efficiently.
The aluminum shell, thermal pad, and corrugated surface of the ACASIS NVMe Enclosure provide maximum heat dissipation, protecting the SSD from overheating and reducing power consumption.
ACASIS conducts extensive speed tests to ensure maximum reliability and stability, making it the ideal choice for professionals who work with sensitive data.
Single interface, no driver installation, no external power supply, easy to use, plug and play.
The TBU405 has broad compatibility and works seamlessly with a variety of operating systems, including Windows, macOS and Linux.
As long as your device has a Thunderbolt 3/4 interface, you can experience Thunderbolt speeds.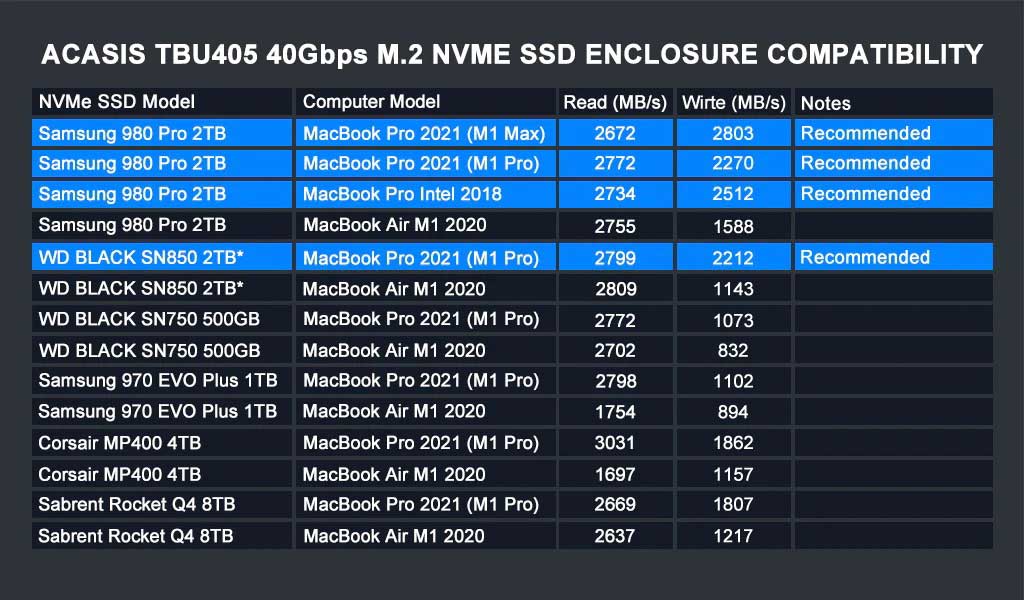 *TBU405 supports up to 8TB of SSD.
The above data are the results of speed tests conducted by Acasis Labs.The speed tested varies by device, system and SSD.
Whether you're transferring large files, editing high-resolution images or video, or just need a reliable and efficient storage solution, the NVME Thunderbolt 4 SSD enclosure has you covered. So why wait?
Upgrade your workflow today and experience the power and speed of the NVME Thunderbolt 4 SSD enclosure.
ACASIS 40Gbps M.2 NVMe SSD Enclosure Compatible with Thunderbolt 3/4, USB 4.0/3.2/3.1/3.0/2.0, TBU405
$169.99
Dark Grey / TBU405
Join our Affiliate Program and win up to 10% reward: