1. Which kind of SSDs can be used?
(1) The factory-installed Apple SSD with 12+16 pin,
not support Toshiba SSD.
(2) The general NVMe SSD,need to used with the adapter
in the package
(3) Not support SATA SSD.
2. The indicator is not on.
(1) Please confirm that the data cable has been firmly
connected to the enclosure.
(2) Please try to use another data cable.
3. The indicator is on, but enclosure does not work.
(1) Check whether your PC has recognized the enclosure.
(As Picture 1)
Check whether the computer recognize SSD.
(As Picture 2)
Picture 1
Picture 2
If not,SSD may be damaged or not compatible with MAC3W.
Please try to use another SSD.
(2) To use a brand new SSD, it needs to be formatted first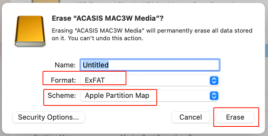 (3) Confirm if the file system of SSD is supported by your computer OS.
Mac OS: ExFAT, APFS,or MacOS Extended NTFS,
Windows: ExFAT,NTFS
If not, please back up the data first then format the SSD.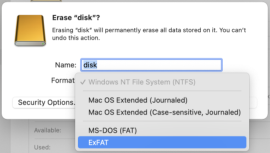 (4) For more questions,please scan the QR code on the
manual cover to get the latest user guide, or contact
support@acasis.com to get the technical support.