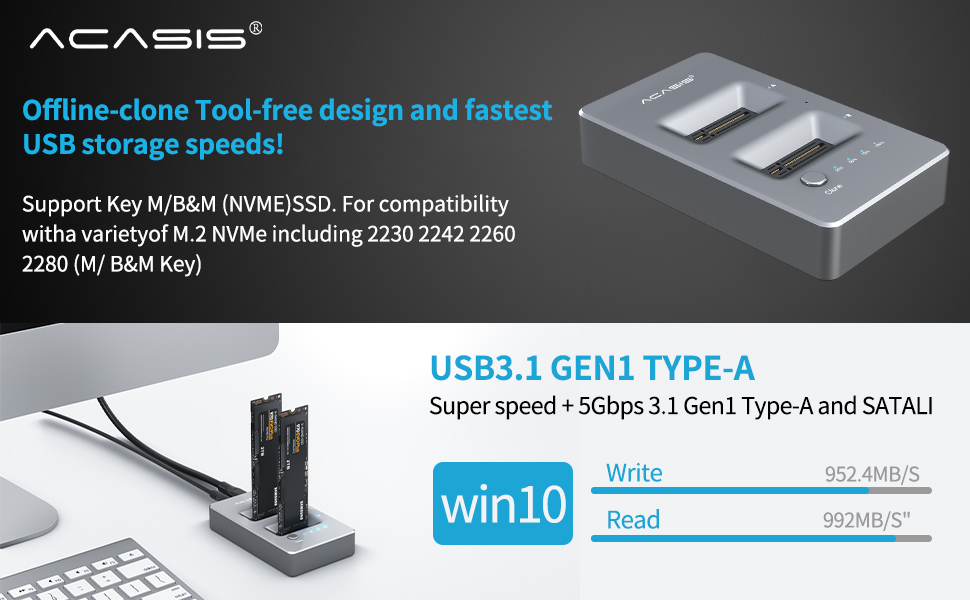 【Easy Operation】SSD Not Included. This ACASIS NVME Docking Station can Offline copy, no need to connect to a computer, file data, audio and video data. When connect to the computer, read the hard disk, exit safely and clone again. It may help you clone easily and protect the nvme enclosure and SSD.

【High Performance】Plug and play, no drivers needed. Supports hard drives up to 8TB. Reads two hard drives simultaneously.Please remind The capacity of the target SSD must Large or equal than the original SSD. If use the equal capacity SSD, please make sure there is showing the same capacity on the computer or it won't be clone sucessfully.

【Amazing Transfer Speed】Achieving 10Gbps USB data transition from NVM Express PCI-e SSD to host PC, MacBook and NAS disk station. Pushing USB3.1 Gen2 to its limit, R/W speed up to 992MB/s with most NVMe.

【Efficient Heat Dissipation】Stereo solid-state hard disk box offline clone base, fast heat dissipation, better protection of hard disk.

【Confirm SSD Interface Before Order】ThisNVME Docking Station only support nvme interface.Support most PCIe NVMe M key or B+M key SSD.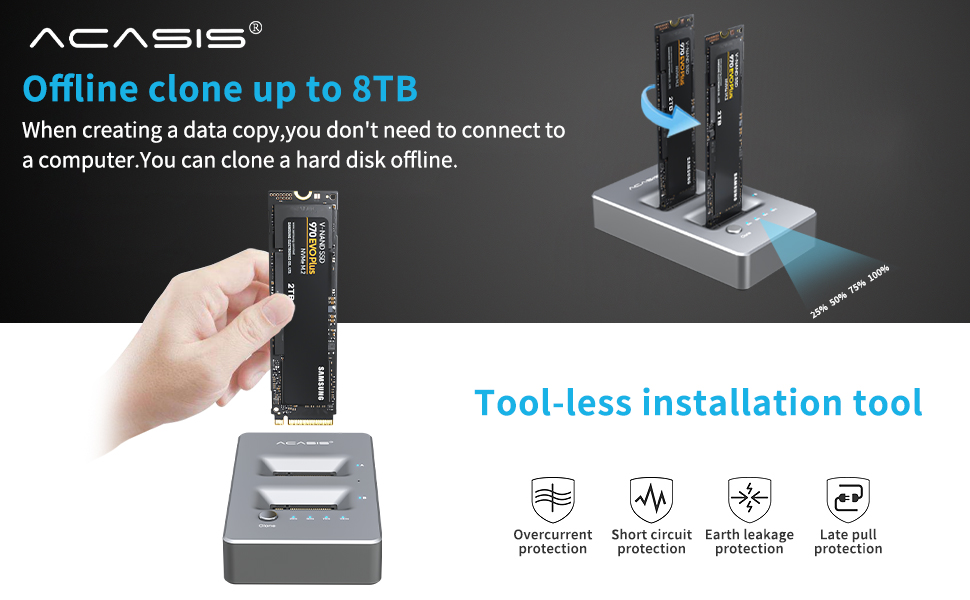 It does clone Nvme Drives
Acasis USB 3.1 Gen2 10Gbps Dual-Bay NVME Docking Station,Lay-Flat External Hard Drive Docking Station for M2 SSD Key M, Support Offline Clone Function and Tool-Free Installation.
Provides Ultra-fast access for reading and writing on up to 2 Solid State Drive simultaneously. Offers faster read (992MB/S) /write (952.4MB/S) data speeds to and from M.2 NVMe SSD.
You will never regret to have one.