Q: Why my ACASIS cannot be recognized and it doesn't work?
A: Please make sure that your computer is connected to the "PC" port of the hub as the below red arrow shows, instead of "PD 100W" or any other USB C, USB A ports on the hub. If your computer only has USB Type-A port, you need to use a USB A to USB C data cable (the HDMI function will be unavailable).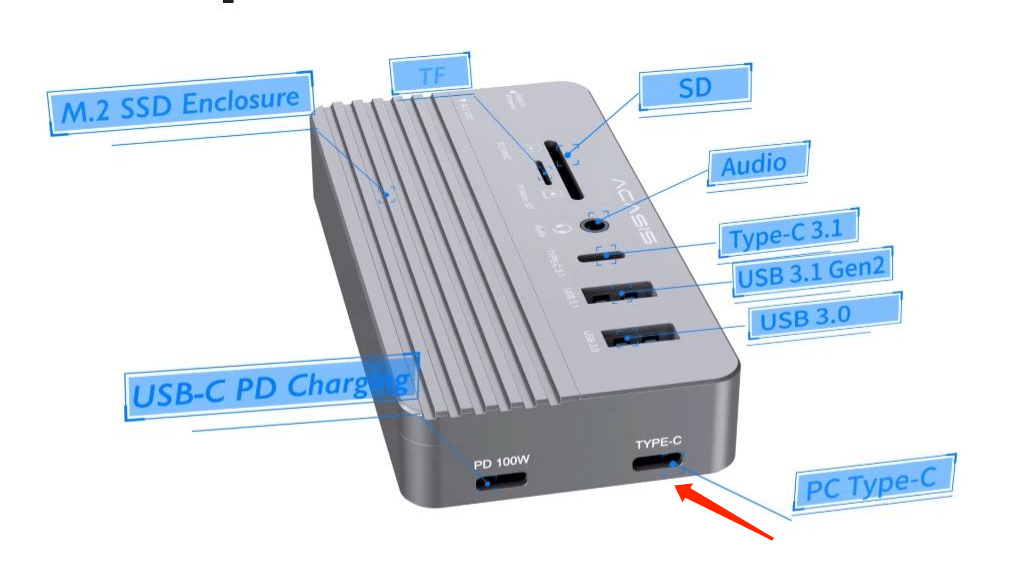 Q: Why my SSD cannot be recognized?
A: If a high-power consumption device is connected to the hub, like a large capacity SSD (1T or bigger, depending on the computer performance), please plug a power adapter(at least 60W, it's the best to use your original device charger) into "PD" port.
If you are using a laptop or iPad, please connect the PD charger of your device to the hub, then you can charge your laptop or iPad while using the hub.

*IMPORTANT: 
If you cannot recognize SSD even if you plug the right ports as above and other functions work normally, PLEASE RECHECK IF THE SSD IS FULLY INSERTED INTO THE SLOT!!!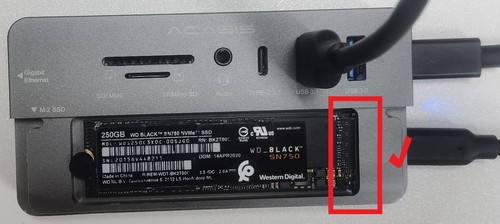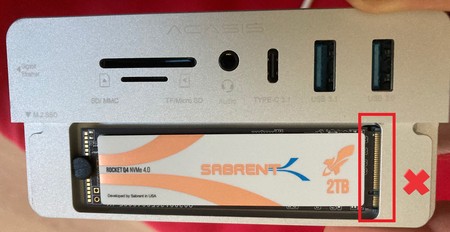 Q: Why does my ACASIS read/write SSD at 30-50Mb/s speed?
A: Please make sure you connect the device with the cable sent with Acasis hub or better (like a real USB3.0/3.1/3.2 cable or Thunderbolt 3 certified cable). If you use a cable that only support charging, the speed will be much slower than normal.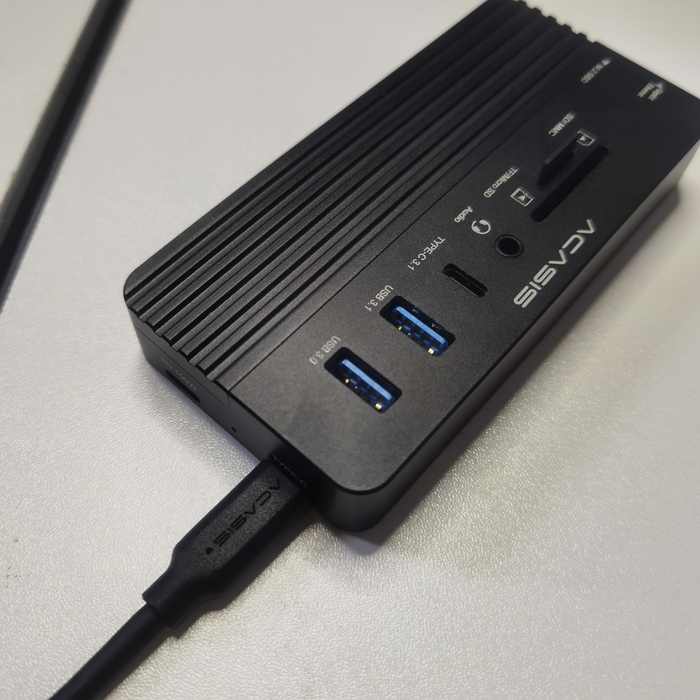 Q: Why does my ACASIS become hot while running?
A: Whten you are using SSD for data transferring(especially NVME, which temperature can be up to 70℃) or multiple ports working at the same time, it will generate a lot of heat.
This compacted hub itself is designed as a heat sink. The thermal pad (the white strip in the package) will connects the SSD with the aluminum hub to dissipate the heat.
Q: What is the white foam strip? How to install it?
A: It is the thermal pad, which will help heat dissipation.
Remove both sides'films first then stick to the SSD surface, and this pad is removable without residue.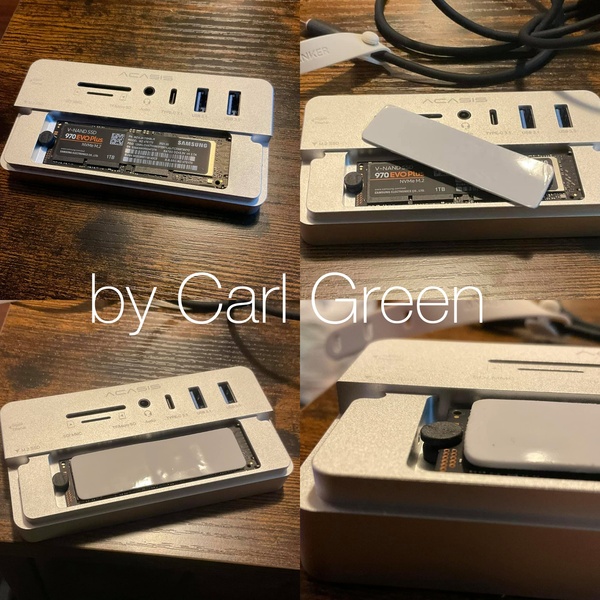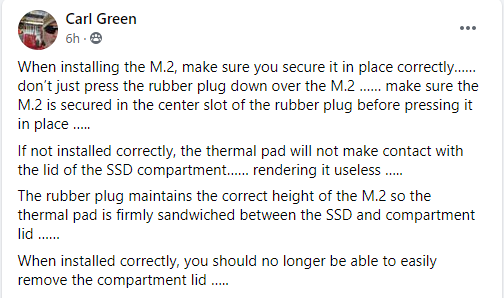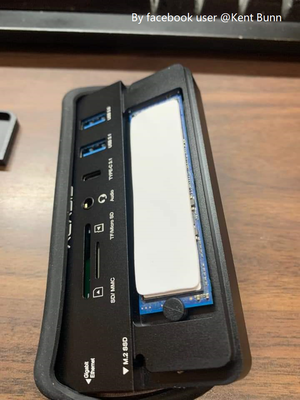 Q: Why my SD card can not be recognized?
A: ①Please insert the card in a right direction.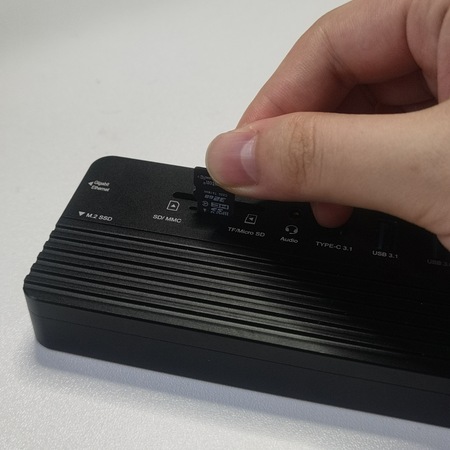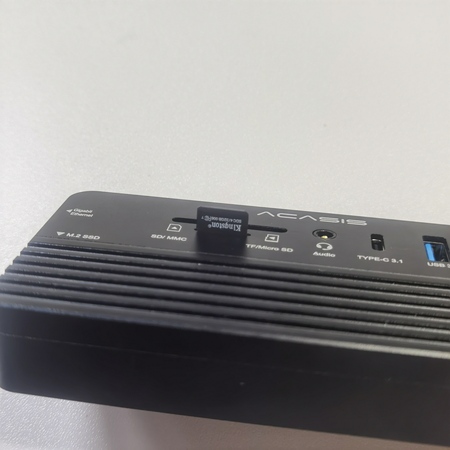 ②Please make sure your sd cards' file system can be recognized by your computer.
Mac OS: ExFAT, FAT or MacOS Extended
Windows: NTFS, ExFAT
Q: Whta if I don't want the sound output through my ACASIS?
▶ Windows OS
If you're connecting to an audio device—such as headphones or speakers—using USB or HDMI, you might need to set that device as the default audio device.
If you're using an external monitor that doesn't have built-in speakers, make sure that the monitor isn't already selected as your default output device.
If it is, you won't have any audio. You can check that when you set your default output audio device. Here's how:
1.In the search box on the taskbar, type Control Panel, the select it from the results.
2.Select Hardware and Sound form the Control Panel, and then select Sound.
3.On the Playback tab, right-click the listing for your audio device, select Set as Default Device, and then select OK.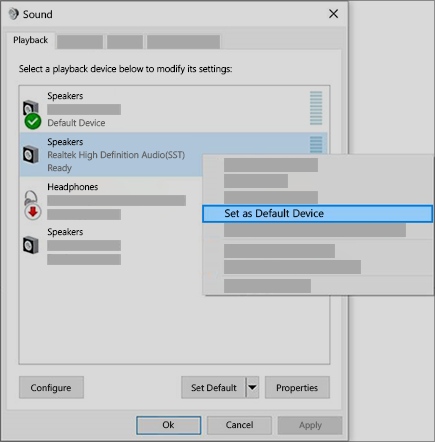 If you want to disable your ACASIS audio port, please click: Windows 10 Forum tutorial
More audio setting troubleshooting for Windows 10: How to Fix sound problems in Windows 10‍
▶Mac OS

1.Connect your audio devices to your Mac and, if necessary install any software included with the devices.
2.In the Audio MIDI Setup app

on your Mac, in the sidebar of the Audio Devices window, select a device.
Note: For iOS and iPadOS devices, first click Enable, then select the device. You may be asked to unlock your device with a passcode or to trust the device.
3.Control-click the device, or click the Configure Selected Device pop-up menu 
at the bottom-left of the sidebar, then choose how the device is going to be used:
For sound input: Choose Use This Device for Sound Input.
For sound output: Choose Use This Device for Sound Output.
For playing system sounds: Choose Play Alerts and Sound Effects Through This Device.
Or you could setup multiple audio devices on Mac:Play audio through multiple devices at once in Audio MIDI Setup‍
‍More audio setting troubleshooting for Apple products:Audio MIDI Setup User Guide‍‍
Q: Why does my ACASIS HDMI function doesn't work after connecting?
①Check your laptop USB C or thunderbolt port supporting DisplayPort Alt Mode.
②Check the cable. Suggest the cable came with your hub, or make sure your own cable support DP alt mode.
③Check power. Give power supply device charge over 60W.
Q: Why does my device lose sound after connecting HDMI?
A: Try to change the order of connections, first connect the HDMI port on your Acasis, then connect to your device, or change the sound setting as the above question.
Q: Is it ok for encase my ACASIS when it is still hot?
A: Yes. It's ok to put on the protective case.
Q: Why my SSD cannot be recognized?
A: When using a large capacity SSD, please make sure your ACASIS PD port is connected with a power adapter over 60W.
If your SSD is a brand new one, including those backers buying ACASIS hubs with SSD, please make sure it has been initialized and formatted.
Q: How to initialize my SSD?
A: For both Windows and Mac users, please click:How to Initialize SSD and Fix 'Disk Unknown Not Initialized' Error
Q: My Acasis with SSD doesn't show up on my Windows PC?
A: Please set your PC like this:https://windowsreport.com/ssd-not-show-pc/
Q: How to format new SSD on Windows OS?
A: Please click Microsoft guide link:
https://docs.microsoft.com/en-us/windows-server/storage/disk-management/troubleshooting-disk-management
Q: My Acasis with SSD doesn't show up on my Macbook?
A:Try to set as this tutorial:
https://setapp.com/how-to/how-to-access-external-drive-thats-not-recognized-on-mac#fix-external-disk-drive-that-will-not-show-up-on-mac
Q: How to format new SSD on Mac OS?
A: Please click the APPLE guide link:
https://support.apple.com/guide/disk-utility/erase-and-reformat-a-storage-device-dskutl14079/mac
Q: Which file formats are supported on Mac OS?
A: https://support.apple.com/guide/disk-utility/file-system-formats-available-in-disk-utility-dsku19ed921c/20.0/mac/11.0
Q: Where can I get the E-edition of the manual?
A: Just access https://www.acasis.com/pages/acasis-product-manuals  for "CM073 User Manual".
If you have other problems while using, please find us at:
Email: support@acasis.com
Website Messenger: www.acasis.com
If you have something useful want to share with other backers, please come and leave your comments there.
Facebook Page Messenger: 
https://www.facebook.com/Acasis.support
Facebook Group Discussion: 
https://www.facebook.com/groups/acasis