2021 Kickstarter&Indiegogo hottest campaign
with 4641 backers
This innovate hub has 10 ports to connect your peripherals while
keeping the host device charged, and provides convenient expansion
of storage up to 8TB. 
Unlimited Storage & Fast Data Transfer
Easily expand storage up to 8TB for your computer, tablet or phone, etc,
with read/write speeds up to 10Gbps, 15x faster than a traditional HDD.
Transfer Data Easily and Quickly
With Type-C 3.1 port (10Gbps), USB3.1 Gen2 port (10Gbps), USB3.0 
port (5Gbps),SD/TF slots, you can transfer data at blazing transmission
speeds from/to peripherals with different interfaces via this ACASIS
Expansion Hub.
Up to 4K@60Hz UHD HDMI Output
Mirror or extend your screen contents with this ACASIS Hub in stunning
4K@60Hzresolution, with clearer, sharper images displayed on your
projector,HDTV, monitor,feasting your eyes or improving productivity.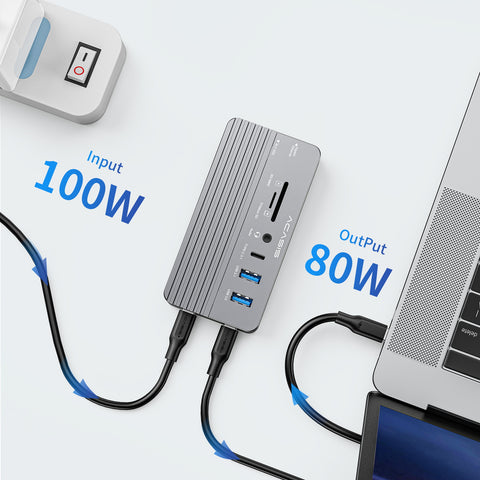 100W PD Charging
This hub supports 100W PD and delivers continuous, powerful charge for
your host device with output up to 80W, which allows you to transfer files
stably and smoothly without interruption or worry of unexpected power
outrage.
Lightweight & Portable
This pocket-size ACASIS SSD hub weighs less than 5.1 oz, ideal to
be taken anywhere: home, office, or on the go.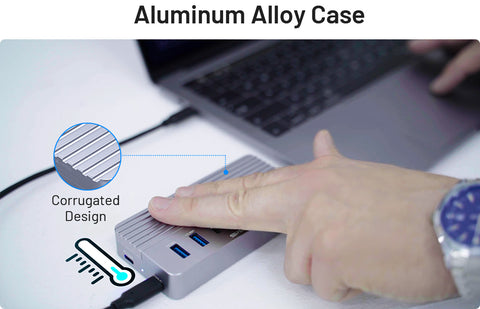 Fast Heat Dissipation
The aluminum alloy shell with corrugated surface efficiently dissipates
heat to prevent throttling and ensure great performance all along.
Tool-Free Design
Tool-free design by ACASIS allows you to replace an SSD easily and
quickly whenever needed without a screw.